First anniversary report is on the air!
Hello everyone and straight to the point.
I 3D models
Siege towers and hedgehogs
Last time we showed ladders not only tightly fixed in the open world but also moveable ladders that the players could place against the wall of a besieged castle.
Today we are going to talk about siege towers and hedgehogs.
[Plenty of time - we'll read it!]
Siege towers are made by the armourers as the other siege weapons.
Siege towers will have a few levels. Its size and durability will depend on the levels. At the moment the concept provides a separate controller to move a siege tower, it works like this:
To move a siege tower we will need 4 characters with (strength+stamina) > N;
They come to the handles along the edges and press "E", ensuring a traction force to move the tower;
After activation of the movement controller, a player can press only "W" and "S", a tower moves only when all 4 players press "W" (back - "S");
To turn the tower right or left only players of one side should push it;
To deploy the tower fast the players of the opposite side should move backwards;
In all other cases the tower stops and doesn't move.
Thus, the controlling of the siege tower is kind of a mini-game where only coordinated movements of fantastic four can deliver the tower to the destination. The number of actions and restrictions are deliberately reduced. It should be taken into consideration that this characters should be protected and healed.
[Had the time - we've read it!]
That's how the towers of first tier look like:
1. usual tower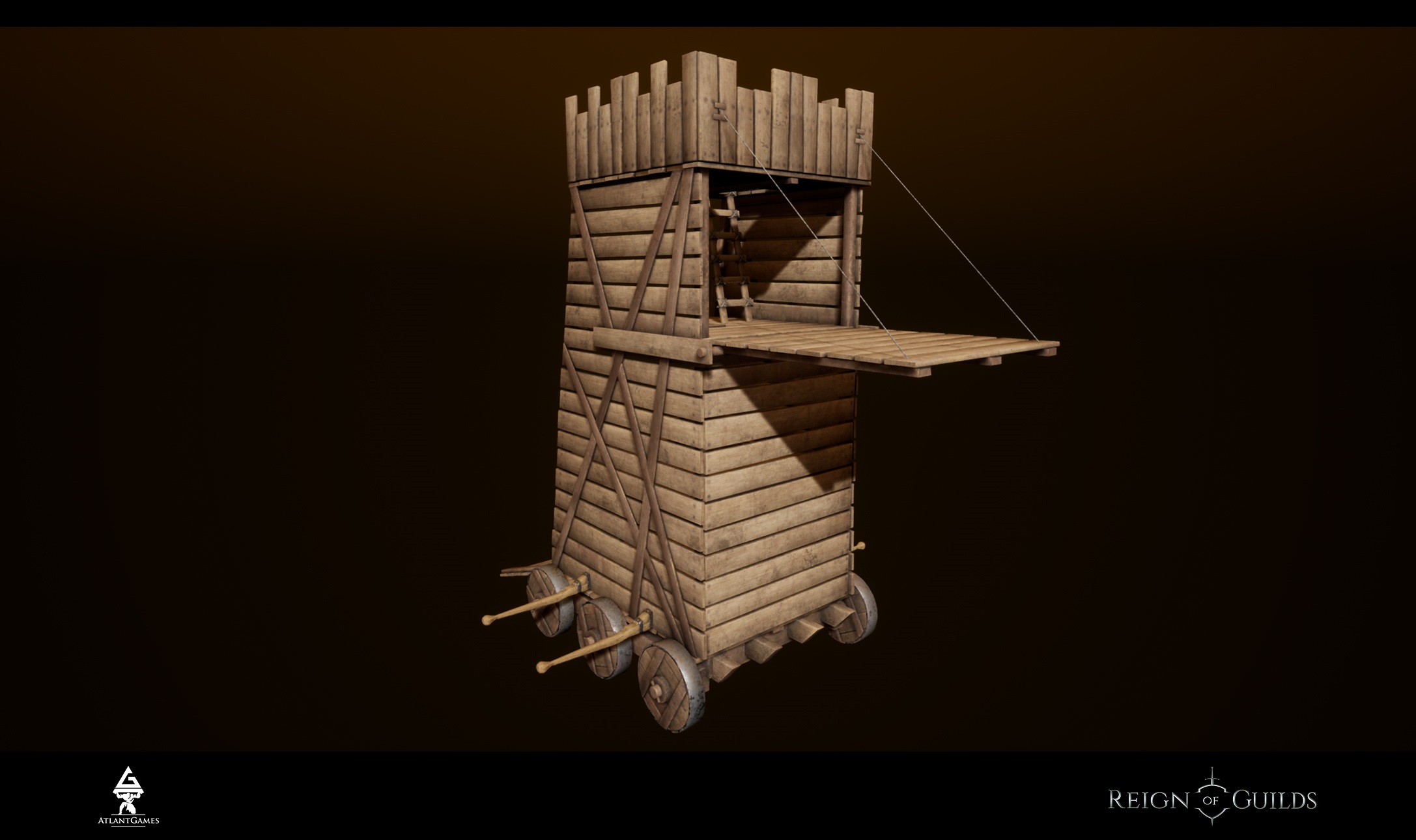 2. skin with nordic shields and medium metallic part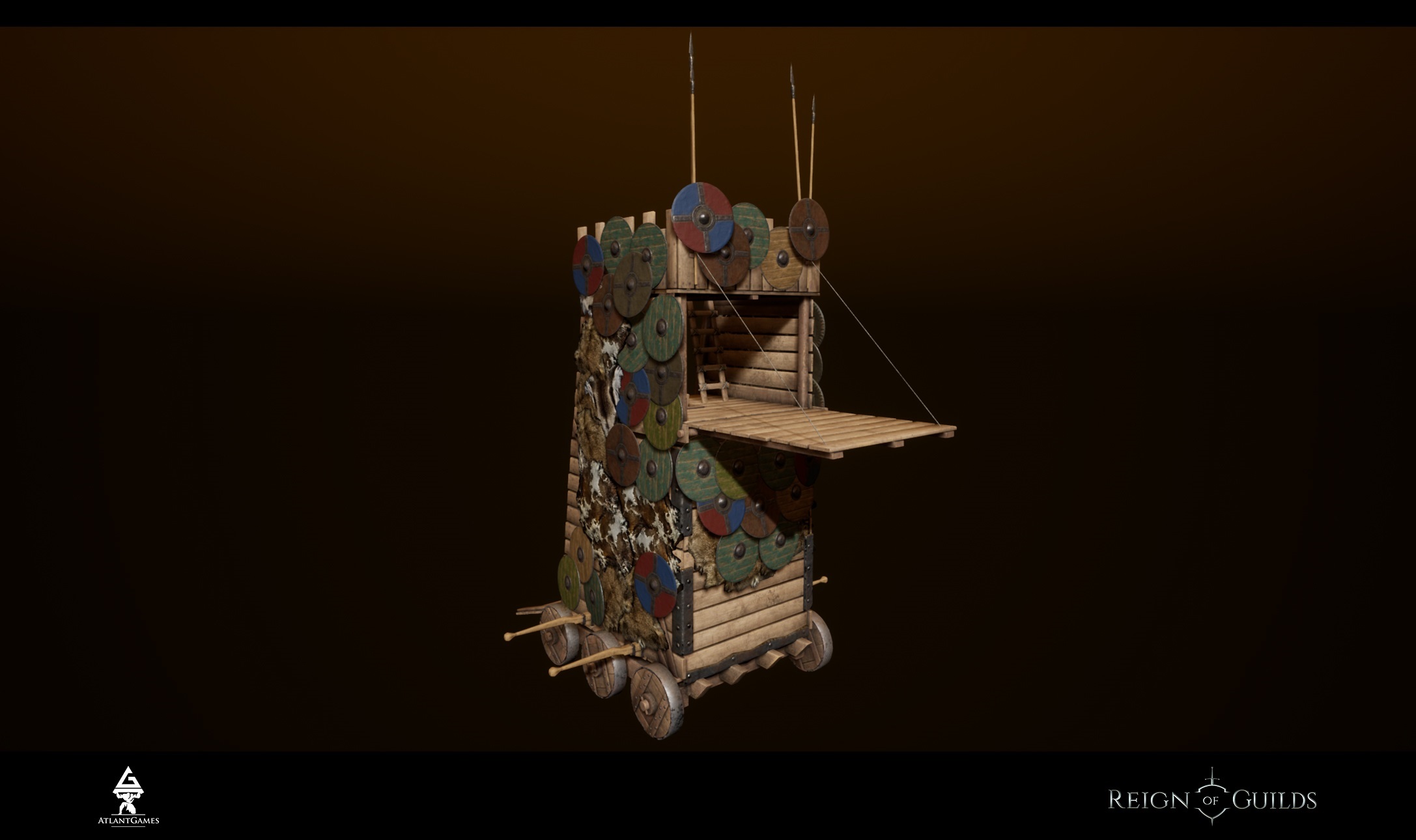 3. skin with Roman shields (scutum) and heavy metallic part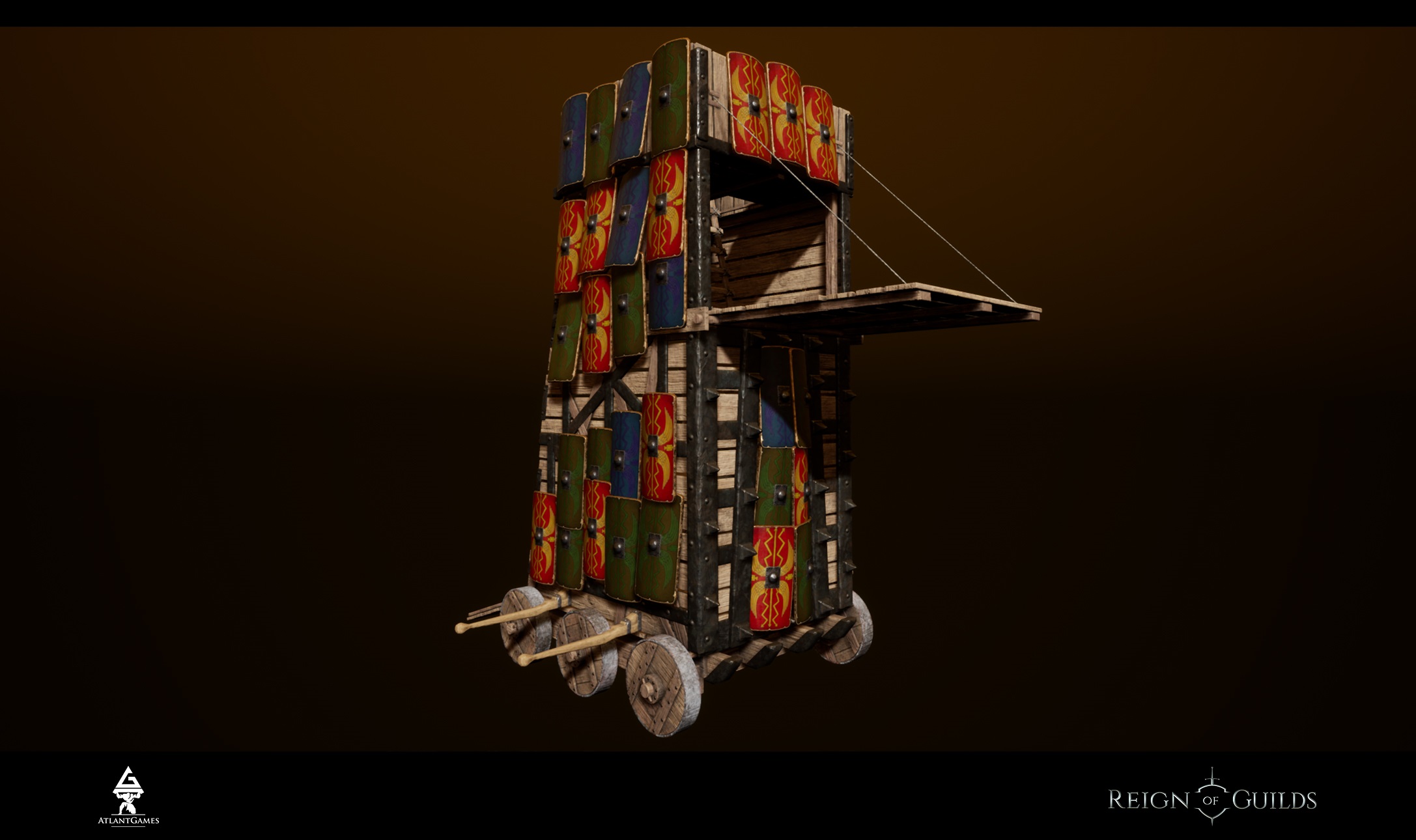 Here's the variant of the same towers but of dark wood: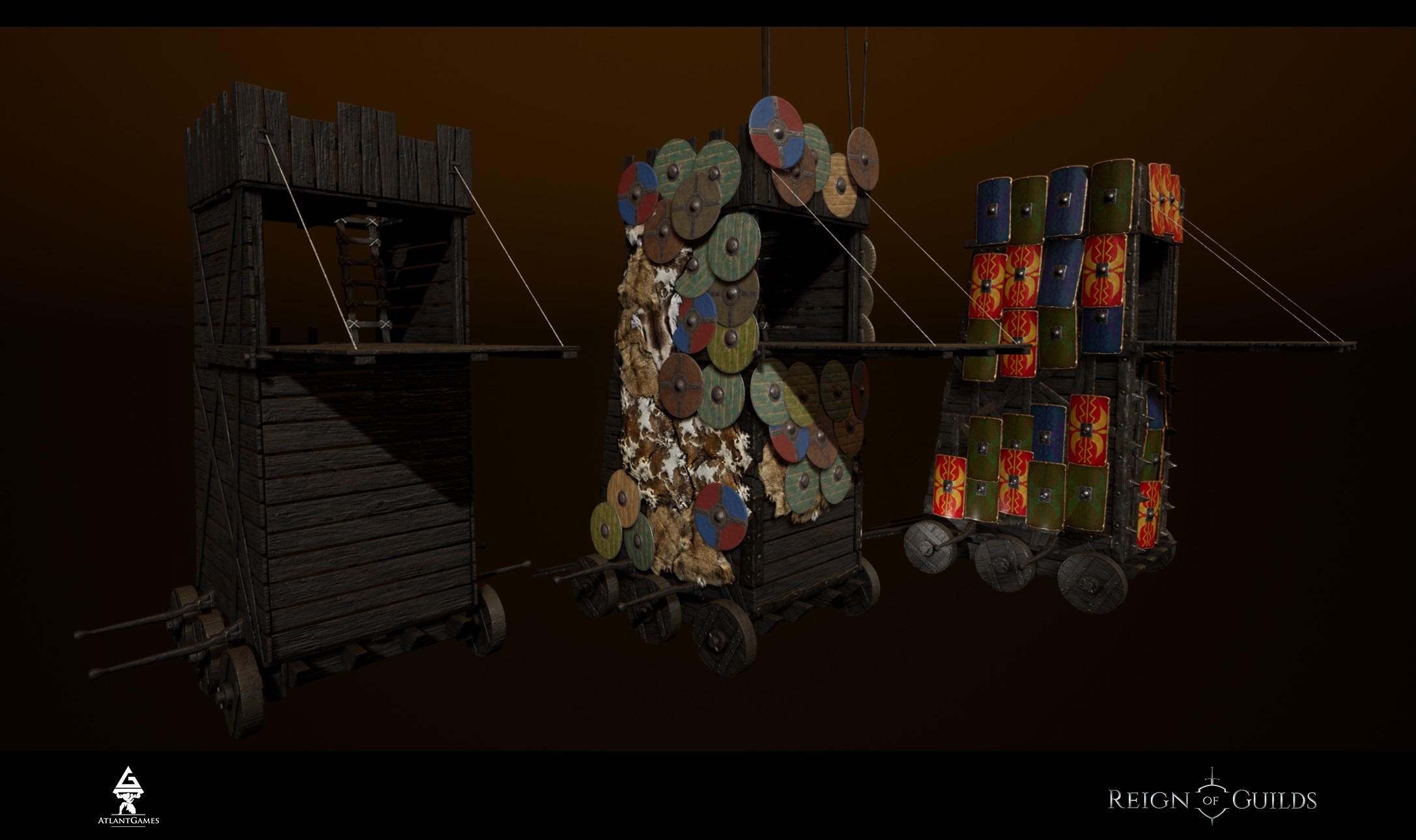 The characteristics of towers don't depend on skins. It isn't changed.
Now let's talk about defensive hedgehogs.
That's how it looks like:
As ledders, there will be 2 types of them:
tightly fixed without durability, it therefore can't be destroyed;
made by armorer, players can't independently place it on the field to make temporary defence store or block the way for the towers.
[Question]
We had one important unresolved issue - after creating siege weapons by armorer we want to take it apart to parts. Every part will weight about 50-100 kg. All guild members will have to take this parts and pull it to the castle. Then the armorer should build it again using finished parts. Building or taking apart is possible only if the guild is renting the closest store for the armorer.
Another variant - armorer creates a draught in his workshop. Following it he can build the siege weapons next to a castle. In this case, guild members will have to get resources instead of parts.
And the third variant - is a casual decision, typical for the majority of games. The siege weapon is one item in the tools, appearing instantly after activation.
[Write your ideas in the comments]
Middle weight pants
Denis, our armour and clothes modeler, has the freedom of creation. That's why we are often surprised with stylish decisions.
II Level design
No comments, only contemplation.
Lumber mill
Cotton farm
Attentive reader will obviously raise this question: why there is a yarrow on the cotton farm? Answer is very simple - we will approve all plant models later. That's why the fields have many weeds. Difficulty lies in its optimization. Beautiful and realistic cotton "costs" for GPU as ¼ of a character.
III VFX
This VFX was created for the AOE healing magic.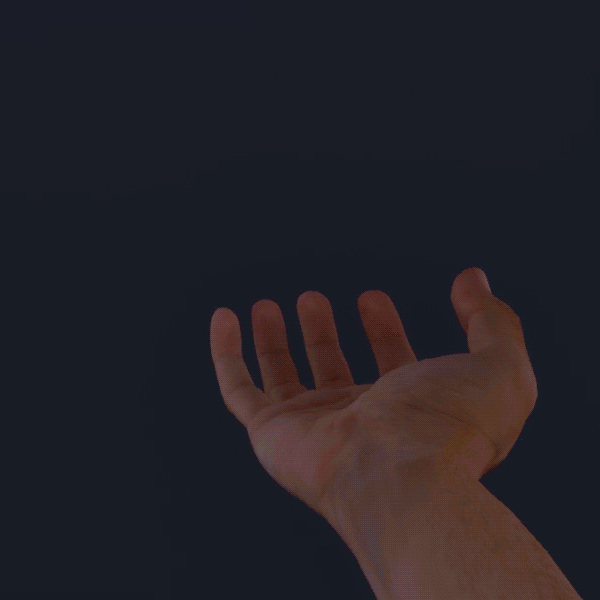 At the moment we are thinking of giving one of this types of magic not only to druids but to other classes, requiring water (reducing ECE).
Firstly we want to talk about this magic.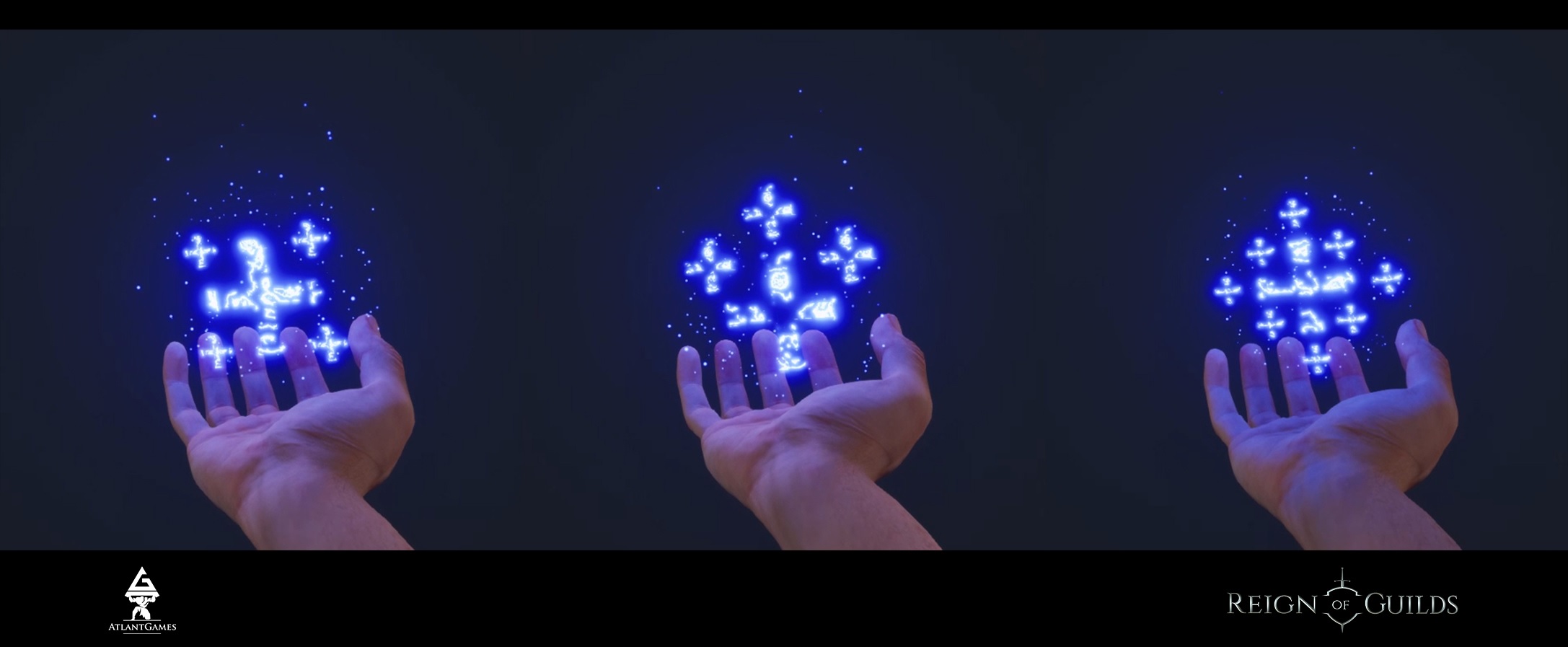 [Plenty of time - we'll read it!]
From the start we had the aim to make an active (skillful) druid more useful than other druids that eats during game session.
Method was typical - to make a few different types of healing.
From left to right: medium AOE with small radius, strong conical AOE, faint AOE with huge radius.
Standing in the thick of things let the druid use stronger AOE skills. The spatial orientation and keeping the group in front of the healer let the druid heal them with the cone.
[Had the time - we've read it!]
IV Conclusion
Again about around-development:
On the "Alpha" page we added an information about the level of implementation of finished content in the client. On the next week we will determine the most convenient steps of implementation. Then there will be more status bars. There you will see what will be expected on the test server. Information will be updated 1 time a week on Mondays.
On this week one more member joined our ROG team - Dmitry. He is responsible for the optimization. We need a separate worker because we can't afford to allocate programmers for it. Optimization of such large-scale world can slow down our work, that we are trying to speed up. And we do it successfully.
And also good news - we made first and the most important step of making new site. There will be one account for the game and forum. And there will be one unified registration on the xsolla+site+forum.
We took care not only of those who had accounts on the forum but also of those who wanted to link another forum account to your game account.
That's all for now, take care and have a nice weekend!
It's Friday evening - ROGgoms up, friends!
Yours faithfully,
Reign of Guilds Team